Taiser Town Phase I
Taiser Town, MDA Scheme 45 Northern By Pass Karachi Sindh.
Housing Society | Project
Overview
Views 15499
---
Taiser Town (Scheme-45) is one of the Scheme of Malir Development Authority (MDA). It was initially announced in the year 1986, as a KDA Scheme. Later, It was handed over to the Malir Development Authority (MDA) in 1996. Read More Read Less
It is situated in the north eastern part of Karachi is constituted over Deh Mokhi, Deh Nangan, Deh Bijar-ji-Buthi and Deh Taiser and is spread over an area admeasuring 20570 acres, and houses gross population of 2.5 million people when fully developed.The Scheme has been planned by Engineering Consultants International Limited (ECIL), the Consultants of International repute, with experience of the works in 19 different countries of the world, adopting the concepts of town planning followed in the modern world yet following the planning regulations of Karachi Building and Town Planning Regulations. IMPORTANCE: The Karachi Northern Bypass (M-10) a 4-lane highway passes through the Taiser Town commencing from the end of the Jinnah Avenue / M M Alam Road, near the junction of the M9, runs for 57 Km with 38 Km through the Taiser Town area. An urban commercial corridor with land astride Karachi Northern By-Pass (KNB) measuring 300 meters on either side has been planned for high-rise and high-end land uses of international standards for national and international investors. It would be a high density highly commercial corridor with some land reserved for mixed uses including residential land uses and some for industrial based commercial activities. COMMERCIALS: The commercial buildings shall be 12 story tall buildings with one or two basement floors for parking, as appropriate and as needed for the planned land uses. 140 feet wide major roads have been planned to run along the KNB ROW with service roads towards the corridor. Also about 180 to 200 feet strip has been planned for high end land uses. This page provides you an overview about Taiser Town Phase I Scheme 45. A comprehensive society/project guide of Taiser Town Phase I Scheme 45 where you can find Property for Sale, Property on Rent or Required, Current Prices, Trends, High Resolutiion Maps, Location and latest updates and news of Taiser Town Phase I Scheme 45.
You can also comment at the bottom for suggestions, feedback or improvement of information provided here. You can also post your property dealing requirements for consultation
Sub-Divisions in Taiser Town Phase I
---
Builder & Developer
---
Malir Development Authority
| Office Location | Phone 1 | Phone 2 |
| --- | --- | --- |
| Taiser Town (Camp Office) 6th floor, Khayyam Chambers Near Nursery Furniture Market? Main Shahrah-e-Faisal Rd, Block 2 PECHS, Karachi | 021-99330056-8 | |
Utilities & Amenities
---
Electricity

Gas

Water

Severage

Security

Parking

Lift

Standby Generator
Community Features
---
Boundary Wall

Mosque

Park

School

Hospital

Commecial

Community Center

Gymnasium

Current Price Trends
---
See the current market price trends of the Taiser Town Phase I. Helps you better understand and future decision making. Prices last updated on 30-Sep-2021

Location on Map
---
SEE THE LOCATION OF Taiser Town Phase I ON GOOGLE MAP
Site / Layout Plan
---
SEE THE DETAILS OF HOUSES AND PLOTS ON SITE / LAYOUT PLAN OF Taiser Town Phase I of Scheme 45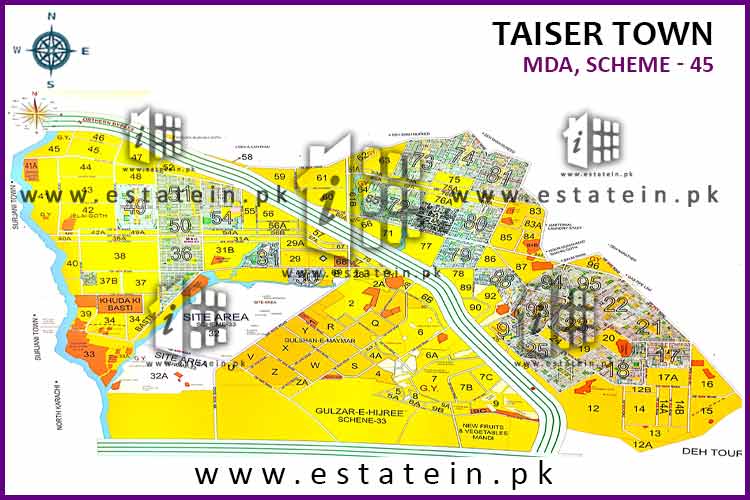 Units / Payment Plan
---
See No. of Units / Plan and Payment Schedule of Taiser Town Phase I.
Payment Plan & Schedule does not exist.
Development Progress
---
SEE THE DEVELOPMENT PROGRESS OF THE PROJECT / SOCIETY
Project Articles & Updates
---
Your Feedback / Suggestions
---
Disclaimer: The Content provided on this Site is intended for informational purposes only and it is believed to be reliable but is not guaranteed. We are not responsible for any error, omission and does not guarantee that they are correct, accurate and error free. You should not be relied upon or construed as a legal opinion or legal advice regarding any subject matter. You should not act or refrain from acting on the basis of any content included in this site without seeking legal or other professional advice.