Sohni Saiban Scheme 33 |Introduction|Location Map|Payment Plan|Site Map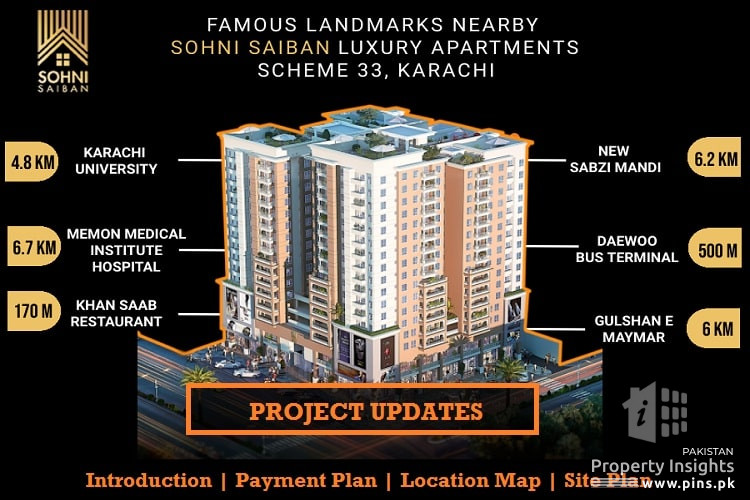 Sohni Saiban Scheme 33 Karachi
Sohni Saiban is a luxury apartments project situated at prime location of Scheme 33 Karachi near Jamali Bridge Main Super Highway. Apartment for sale in Karachi, offer a meticulous lifestyle at affordable cost. Equipped with alluring amenities. Stay in shape with the hip & happening gym at Sohni Saiban. Let your kids enjoy in a separate play area that will cater to their recreational activities. 24-hour surveillance provides safety which is never compromised in these flats for sale. Standby generators ensure uninterrupted power supply for essential services.
Builder / Developer Of The Project
Noble Group a well reputed real state agency, developed this wonderful housing project named Sohni Saiban with all the modern and luxurious facilities of life. Noble group has already successfully completed several projects including Sohni Center , Sohni Residency , Sohni Apartments , Sohni Resorts
Sohni Saiban is approved by Sindh Board Control Authority (SBCA).
Location Map
Sohni Saiban is located at Main Super Highway, ideally near Daewoo Bus Terminal, Sector 3-B, Scheme-33 Karachi.Its infrastructure is very well designed as it is linked with the all the essential and major destinations of Karachi like Karachi University, Baqai Medical College and Memon Hospital etc.
Master Plan
Sohni saiban is spread over 1.4 Acres. It is a 15 story tower with 408 well designed apartments and 21 sohni commercial shops.They are offering 4th to 14th floor typical apartments for booking while basement , ground, 1st and 2nd floor are reserved for parking. Appartments available for booking are of:
Key Features of Sohni Saiban
Sohnin saiban is offering luxurious facilities with a very high standard of living.
Every Apartment a Corner Apartment
Covered Car Parking for every Apartment
Family Park
Branded Lifts
Stand-by Generator
Fully equipped Gymnasium
Security through Surveillance Cameras
Gated Community
Indoor Games
E-Learning Center
Reputable Academic Institutions, Hospitals, Commercial Areas & Grocery Market only a few distance
Apartment Plan
Type-A 4 Rooms Apartment
Net Area 1086.00 SFT
Circulaton Area 242.00 SFT
Total Area 1328.00 SFT
Type-B 4 Rooms Apartment - 8th To 16th Floor
Net Area 1122.00 SFT
Circulaton Area 246.00 SFT
Total Area 1368.00 SFT
Type-B1 4 Rooms Apartment
3rd to 15th floor

Net Area 1039.00 SFT
Circulaton Area 227.00 SFT
Total Area 1266.00 SFT
Type-C 3 Rooms Apartment

Net Area 868.00 SFT
Circulaton Area 192.00 SFT
Total Area 1060.00 SFT
Type-D 3 Rooms Apartment

Net Area 824.00 SFT
Circulaton Area 183.00 SFT
Total Area 1007.00 SFT
Payment Plan
For Type –A
Size 1328 SQFT
DownPayment 3427000
Monthly 95000 x 36 = 3420000
HalfYearly 342000 x 6 = 2052000
Annually 685000 x 3 = 2055000
Possession 466800
Total 11420800
For Type –B

Size 1368 SQFT
DownPayment 3531000
Monthly 98000 x 36 = 3528000
HalfYearly 352000 x 6 = 2112000
Annually 705000 x 3 = 2115000
Possession 478800
Total 11764800