Sector 80 Phase I Taiser Town Karachi - Location | Siteplan | Nov-22 Price Updates | Investment Tips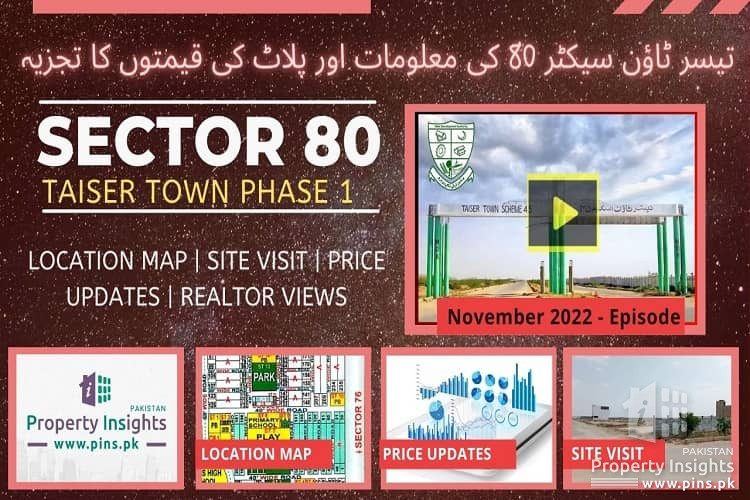 Project documentatory of Sector 80 Phase I Taiser Town Scheme 45 Karachi.
Sector 80 is a pure residential sector which is sub divided into 4 sub sectors. Location of Sector 80 is very ideal which is connected with 150 ft wide Shahra-e-Taiser and it is just after Sector 79. This sector is ideal for investment and future prospective of this sector is very good due to its location and construction of houses.
This sector comprises of 80, 120, 240 and 400 yards residential plots. Prices of plots are increasing due to its location and development work on nearby sectors.
According to the market situation in November 2022, The Plot for Sale in Sector 80 is ranging from 10.50 to 12 Lakh for 80 sq yards, 16-20 Lakh for 120 sq yards plot, 24 to 30 Lakh for 240 sq yards plot and 32 to 40 lakh for 400 sq yards plot.
Click to Find Plots for sale in Sector 80 Taiser Town Karachi
Following video documentary of Sector 80 which describes its location, sitemap, sub sectors, price updates, plots for sale and investment advice.
Explore, Join and Post your plot for Sell or Purchase in Property Insights Marketplace
Find Plots for Sale in Taiser Townn Karachi
Contact us for more updates and sale / purchase of your plots in Sector 80 Taiser Town Karachi
03312348803
Addon Marketing