Capital Smart City Islamabad Project Updates | Site Map | Payment Plan | Plots on Installment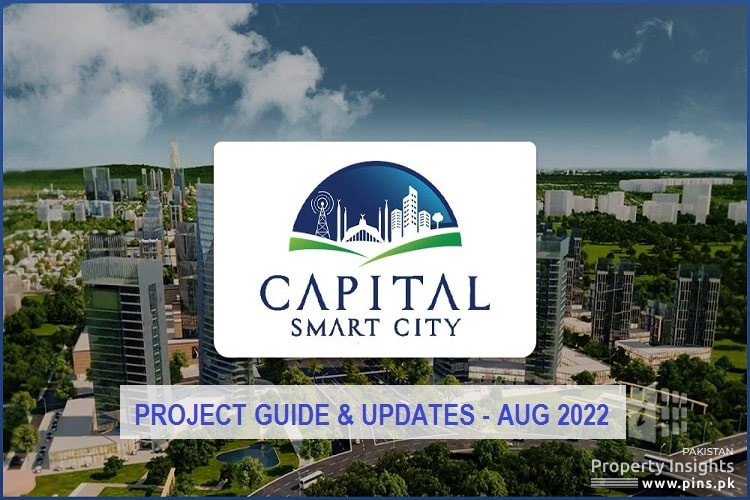 Capital Smart City Islamabad
The first smart city in Pakistan, Capital Smart City Islamabad is a major breakthrough in the real estate sector. One of Pakistan's largest eco-friendly cities, Capital Smart City Islamabad, aspires to be.
With all other necessities of life included, this high-quality residential building aims to provide a luxurious living experience. This home development has a strong concentration of all the essential features of outstanding habitation. Capital Smart City Islamabad (CSCI) is a leader in bringing sustainable future by making the most of cutting-edge technologies. In every way, it has continued to uphold a high quality. Development that is self-sustaining is ensured by smart housing, smart economy, and smart environment.
Key terms that characterize Capital Smart City are original concepts, aesthetics, and cutting-edge architecture. The residential real estate market in Pakistan has altered significantly as a result of the innovative and successful Capital Smart City project. The Islamabad Smart City is the fourth in Asia and the first in Pakistan. Due of its surprisingly ingenious characteristics, this housing culture has received and continues to get considerable attention.
Builder / Developer of the Project
Future Development Holdings (PVT) Limited is the company behind the Capital Smart City Islamabad project (FDHL). This premium smart city is being developed by FDHL in partnership with Habib Rafiq (PVT.) Limited (HRL).
It's Location
On the outskirts of Rawalpindi and Islamabad sits Capital Smart City. It has the most famous site, and Rawalpindi is only 22 minutes away. It takes 8 minutes to get to M2- Islamabad Toll Plaza, and 5 minutes to get to New Islamabad International Airport.
Where is Capital Smart City? The fact that Islamabad has two primary entrance points makes it special. Another major road that makes it simple to reach Capital Smart City is Islamabad Motorway. Additionally, the Rawalpindi Ring Road might be used to access Capital Smart City (RRR).
Key Features of Capital Smart City
This housing society provides its residents with a distinctive and modern living experience that includes cutting-edge amenities. By adopting sophisticated technology and incorporating smart features, this housing society will become Pakistan's first Smart City. We have listed some of the most notable characteristics of this civilization below:
Environmentally Friendly City
Advanced Protection
Environment that is green and clean
The subway bus system
24/7 Underground Electricity Water, natural gas, and electricity
Traffic, weather, power, and internet smart applications
Hotels, shopping malls, and athletic clubs
Housing strategy that is both smart and contemporary
Infrastructure of the highest caliber
Overseas stifling
Parks, mosques, and lakes
Sporting Activities
Golf Course (18 Holes)
Hotels & Resorts Movenpick
M-2 junction designated Close proximity to Islamabad and Rawalpindi
Master Plan
The Capital Smart City Master Plan is designed in the form of a township. It provides fairly acceptable residence solutions that are not only economical but also exhibit a living idea. Among all the edges, the dwelling experience it delivers is totally dependent on density. It is made up of the following components:
• High to low density (05 Marla to 2 Kanal)
• Shared Villas
• The public transportation network, high-rise structures, and Central Boulevard are all part of the concept.

The Capital Smart City housing proposal Islamabad Rawalpindi is centred on creating creative new places for people to work, play, and live. All of this has convinced foreign investors as well.
The developers have also suggested a township design for Islamabad's smart city project. This concept is intended to address all traffic flow problems. A number of societies are anticipated to prosper as a result of the capital's smart city Islamabad pricing.
The housing project offers homes ranging in size from 5 Marla to 20 Kanal, with high to moderate densities. All of the necessities of life are abundant in these places, which have been dispersed over several communities.
The golf course neighborhood, overseas block, waterfront apartments with a mix of uses, executive blocks, and capital hills are all components of the whole picture
Blocks for Capital Smart City Islamabad
The following are Capital Smart City's blocks:
Overseas Block
On February 20, 2018, the capital smart city launched its foreign block in the society at London Dorchester. For the first time in any housing society in Pakistan, this one is the first to have an especially created overseas block that is just allocated for Pakistanis living abroad.
With this program, Capital Smart City hopes to provide abroad Pakistanis with a safe and beneficial investment opportunity in Pakistan. Because of its exceptional amenities and location, Overseas Block quickly rose to prominence as the Centre of Capital Smart City.
Overseas Prime Block
The Overseas Prime Block is one of Capital Smart City's more promising neighbourhoods. The block is only for Pakistanis living abroad, yet it has more modern and opulent amenities.
I. Overseas Prime Block I - Residential Plots:
The residential plots of the following sizes are up for sale in this block:
7 Marla
10 Marla
12 Marla
1 Kanal
2 Kanal
4 Kanal
II. Overseas Prime Block Commercial Plots:
The commercial plots of the following sizes are up for sale in this block:
II. Overseas Prime Block II:
Overseas Prime II offers luxurious yet affordable residential plots.
I. Overseas Prime II Residential Plots:
The residential plots of the following sizes are up for sale:
5 Marla
7 Marla
10 Marla
12 Marla
1 Kanal
2 Kanal
Executive Block:
The officials only offered the conversion of these plots for a limited time; the application deadline was May 24, 2019, after which a 30% extra fee was to be paid to the society for conversion or reserving a new plot in this block. Plots in the Executive Block are 30% more expensive than those in the General Block, and those who seek to convert their plot after the deadline must now pay an extra price as well as a set fee.
General Block:
General Block: Initially, the society began its booking with the general block of the society, which was later extended into several blocks. The community consists of various sizes of residential and commercial plots ranging from 5 Marla to 1 & 2 Kanal plots in various blocks.
Smart Villas
An Avant-Garde project of Capital Smart City, that's just a few minutes drive from the new Islamabad International Airport. Capital Smart City has joined hands with Trivelles International, leading property development and investment in the UK to launch Pakistan's first-ever Smart Villas in their housing project by the name of "Trivelles Lake Boulevard". The modern development in these villas will feature the best smart, up-scale and revolutionary features to provide an ahead of its time living experience its occupants.
The smart villas in the Trivelles Lake Boulevard are strategically placed between the Crystal Lake and the 18-hole Golf Course in the Overseas Block of Capital Smart City Islamabad. These Villas will be privileged with the best views of the society and will hold an edge over the remaining areas of the society in terms of features and location.
Payment Plan
Capital Smart City Islamabad provides comprehensive and affordbale payment plan for its residents on quarterly easy installments.
Residential Plots